With the implementation of the Lithuanian fiscalisation, a new entity, the "Supplier", was introduced in the RetailForce portal. Currently, this entity is used to connect the so-called service companies in Lithuania and to enable certificate handling.
Service Companies must be selected in the Lithuanian configuration in order to be assigned to a specific (cash-operating) company.
To do this, the service company must first be created as such. The following steps are necessary for this.
The service company must be created in the RetailForce portal as a "supplier".
Subsequently, a contract with the type "SERVICECOMPANY_LT" must be assigned to the Service Company by RetailForce.
ATTENTION: the contract assignment is carried out exclusively by RetailForce! Please contact your contact person for this.
A CSR (Certificate Signing Request) for the service company certificate must be triggered under the entity Service Company (via Action Item: "Create CSR").

After the .csr file has been generated and downloaded, the CSR request must be finished in the i.EKA-Portal (upload .csr file to i.EKA). This step will create a Service Company Identification Certificate.
The Service Company Identification Certificate needs to be uploaded (via Action Item: "Complete CSR") to the RetailForce Portal.

Other required certificates are automatically generated in the RetailForce Cloud after the Service Company Identification Certificate has been uploaded.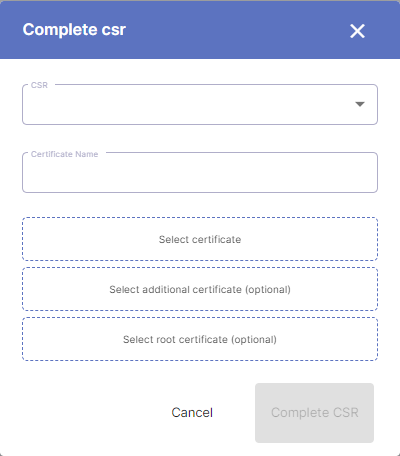 After the above steps have been successfully completed, the service company can be selected and assigned in the configuration for the Lithuanian system.