In this article you will learn how to view, search and download digital receipts in the RetailForce Cloud.
In order to use this function, the Digital Receipt (full product) licence must be activated in the configuration for the respective client.
Selecting "Receipts" in the menu takes you to the view of the digital receipt:

Attention: The menu item "Receipts" is only displayed if the Digital Receipt (full product) licence has been activated for at least one configuration of the selected organisation!
Receipt search
With the view of receipts in the cloud, the last uploaded receipts are displayed by default.
The search can be used to search for the following parameters, among others:
Company
Store
Terminal
Date (from/untill)
document type
Amount (system will search for amounts approx. +/- 10%)

Syntax:

numbers only - if 10 is entered, system searches for EUR 10 / CHF 10 / GBP 10 / USD 10 / ... (+/- 10%)
all receipts up to EUR 10.00: -10
all receipts from EUR 10.00: 10-
all receipts between EUR 10.00 and EUR 20.00: 10-20

Item

searches by article number and/or designation by default
Syntax:

restrict search to item number only: Item:=

example:

restrict search to EAN number only: ItemCode:=

example:

When entering the numbers (item number, EAN) under inverted commas ("9099999543217"), only this number is searched for.

Partner

searches by number and designation by default

Syntax:

Search only in PartnerId: Id:=
Search only in description: Caption:=
Search in partner type: PartnerType:=
Search in VAT number: VatNumber:=
Search in Street (address): Street:=
Search in street number: StreetNumber:=
Search in postal code: PostalCode:=
Search in city/town: City:=
Search in Country: CountryCode:=

User

searches for the caption by default

Syntax:

Search in UserId: Id:=
Search in Caption: Caption:=
Note: The search for specific data only works if the metadata is provided by the sending system (electronic recording system).
The search can be found on the right hand side within the action bar: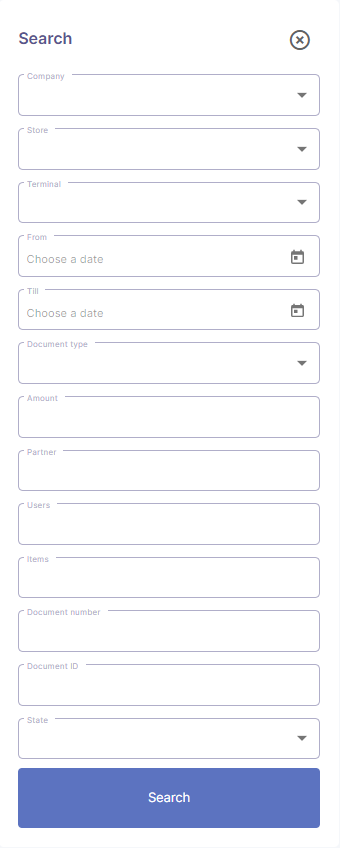 Viewing receipts
The receipts are displayed with a preview in tile form. By default, 8 vouchers are loaded, if you scroll down further, more vouchers are loaded automatically.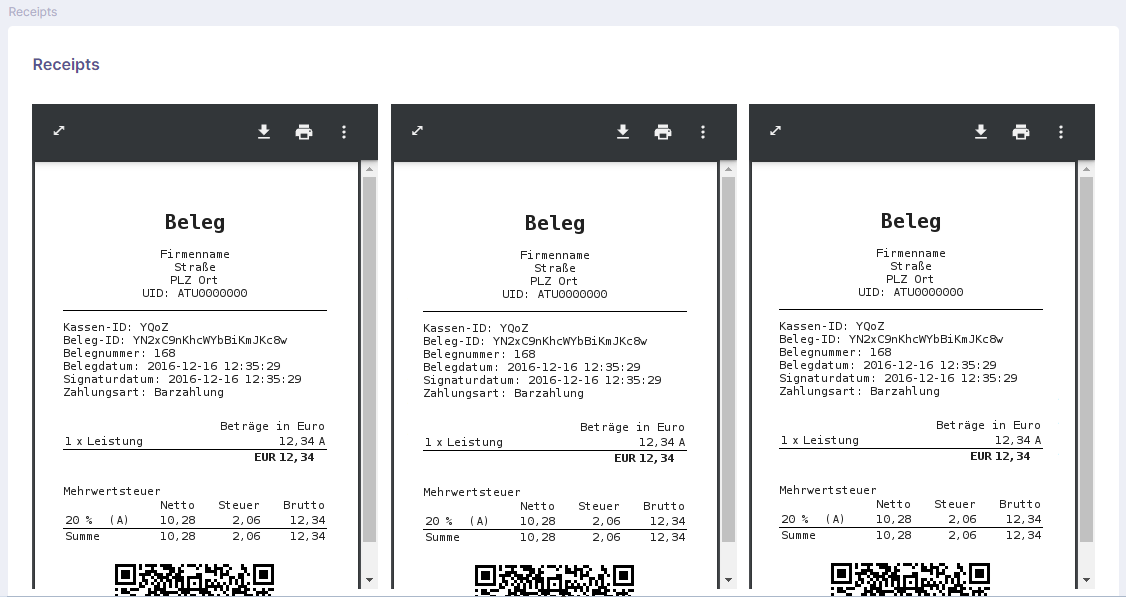 Each receipt can be downloaded

. or printed

.
Large view of Reciept
Each receipt can be viewed in full screen mode by clicking

. To close the full screen view, simply press ESC.
Linked Receipts
Some digital receipts are displayed with a blue frame. This indicates that other receipts are linked to the corresponding receipt. For example, in the case of cancellation/return and reissue, or invoice to order, cash payment to invoice, etc.
To be able to use the function, the linking information must be transmitted by the electronic recording system.